Flooding Delays River Downs Meet Opening
http://www.bloodhorse.com/horse-racing/articles/62684/flooding-delays-river-downs-meet-opening
---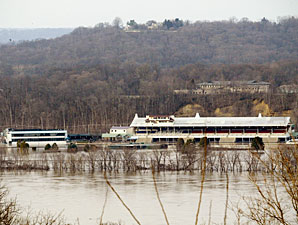 River Downs March flood 2011.
Photo: Emily Lang
Flooding Delays River Downs Meet Opening
The record-setting rains of April in the Cincinnati, Ohio area have forced officials at River Downs to push back their expected live racing opening of Friday, April 29, to a date yet to be determined. 
Water from the Ohio River levels has covered the main track with water and while those levels are predicted to recede during the week, wet weather is expected until Thursday, April 28.
Posted via email from Michael Pizzolla On ValueCapping™, Horse Racing, And Technology
Posted on April 25, 2011
in Uncategorized
Comments are off