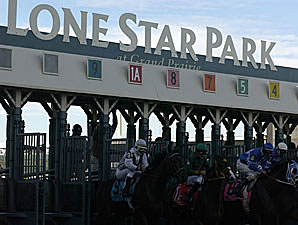 Bloodhorse.com Reports Lone Star Unveils Two New Wagering Options
---
Bettors will have tw
o new wagering options to consider—the 10-cent Super Hi-5, and the 10-cent Fortune 6—when Lone Star Park in Texas kicks off its Thoroughbred meet April 14. The Fortune 6 will have a low takeout of 12%.
The Super Hi-5 is a 10-cent minimum wager that requires bettors to correctly select the first five finishers of a race in exact order. When a winning combination is not sold, all money wagered carries over to the next race where Super Hi-5 wagering is offered. Super Hi-5 wagering will be available on the final race of every program in races with at least seven betting interests.
The 10-cent Fortune 6 is a multiple-race wager requiring bettors to correctly designate the winner of six consecutive races. The entire net Fortune 6 pool and carryover will only be distributed to the holder of a unique 10-cent winning wager. When there are multiple winners, 60% of the pool will be shared equally, while 40% of the pool goes into the jackpot carryover. When there is no unique 10-cent wager selecting the first place finisher in all Fortune 6 races, 60% of the pool will be distributed to those who selected the most winners, and 40% of the pool will carry over. The Fortune 6 is offered daily and will comprise the final six races.
Also new on the wagering menu for the 2011 Thoroughbred season are 50-cent rolling Pick 3s, previously offered as a $2 wager.
For the full article: http://www.bloodhorse.com/horse-racing/articles/61975/lone-star-unveils-two-new-wagering-options
Posted via email from Michael Pizzolla On ValueCapping™, Horse Racing, And Technology
Posted on March 18, 2011
in Uncategorized
Comments are off